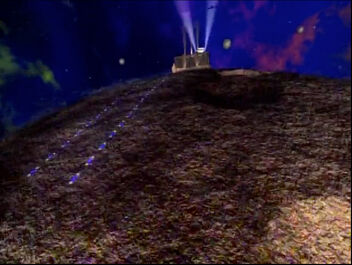 Welcome to the Space Ghost wiki! This wiki is for information on the various cartoon shows based on the character Space Ghost and his universe. If you're a fan have fun helping this wiki grow!
About Space Ghost
[
]
The original Space Ghost cartoon was a 1960s superhero cartoon show set in outer space. It was cancelled after a short time. Space Ghost also appeared in Space Stars thereafter.
In the 1990s, Cartoon Network revived Space Ghost to become the host of a comedic talk show: Space Ghost Coast to Coast, along with two of his former villains, Zorak and Moltar. Cartoon Network soon started another show, Cartoon Planet, which re-introduced the character of Brak. A programming block on Cartoon Network, entitled Toonami, was originally hosted by Moltar and set in the universe of Space Ghost.
In the 2000s, DC Comics re-imagined a more serious version of Space Ghost, with a comic book miniseries revealing, at last, Space Ghost's origins. Cartoon Network, meanwhile, produced a new spin-off of Cartoon Planet, entitled The Brak Show.
Space Ghost appeared as part of the Hanna-Barbera Beyond event Future Quest.
TV Series
[
]
Comic Books
[
]
Manga
[
]
Characters
[
]